Pork Pie Charity Run
The Pork Pie Charity Run was launched in 2009 to celebrate the 50th anniversary of the Mini production and invoke the spirit of the Goodbye Pork Pie movie. Mini drivers are invited to travel 2500kms from Kaitaia to Invercargill over Easter.

Teams commit to raising funds for KidsCan to help Kiwi kids in need. Competition for top spot on the fundraising leaderboard is fierce but it's all in the name of fun and making as big a difference as possible. Click here for more info.
In 2019 the maximum entry limit of 60 teams was reached within 7 minutes of online registrations being open! Participants raised over $270K for KidsCan. 5 teams from Tauranga Mini Owners Club entered (see below) and collectively raised over $22K, with Madams of Mayhem reaching 5th on the nationwide leader board having raised over $11K. Well done Deidre and Hanna!
Pork Pie 2021
Departing Paihia Friday 26th March 2021, arriving in Invercargill Wednesday 31st March 2021.
Registrations go live at midday, Sunday 26th July 2020. Visit https://www.porkpie.co.nz/ for more info.
2019 TMOC Teams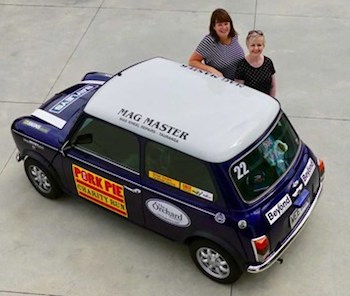 Madams of Mayhem
Deidre: As a Co-owner and Director of a NZ recruitment company I see first hand the disadvantages that can occur later in life if our children are not provided with the essentials early in their education. Our company motto is "We Work to Benefit NZ" and I relish the opportunity to raise money for these children through and with the support of KidsCan as well as being able to fulfill my passion for Classic Minis by driving from Kaitaia to Invercargill as part of the 2019 Pork Pie Charity Run.

Hanna: Being passionate about Mini's, I am excited to be travelling the length of New Zealand with my co-pilot Deidre. It was a no brainer when Deidre asked me if I wanted to do this journey with her, given that the Pork Pie Charity Run has been an item on my bucket list! I see first hand the difference Kidscan makes at a decile 1 primary school ….
Special thanks to our corporate sponsors:

Team Mini 6
Tim: Retired and Senior Driver
Rowena: Accountant and Head Navigator

1998 Rover Mini Cooper

Currently living the good life in Tauranga and both members of the Tauranga Mini Owners Club Inc.
Got my first Mini in 1977 and it was my first car, have since owned 7. Once retired have purchased more Minis to restore and have fun in. Have completed the Pork Pie Charity Run in a different Mini - 2013, 2015 and 2017.

Looking forward to meeting up with the other 118 Mini enthusiasts and having a blast driving the length of NZ in April 2019.
BTW we are taking this Bloody Car to Invercargill !
Special thanks to our corporate sponsors: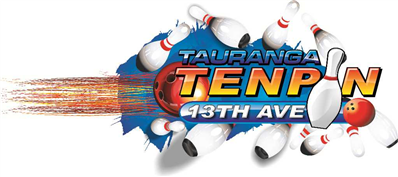 Team TenPin
Mark & Rebecca Stretton.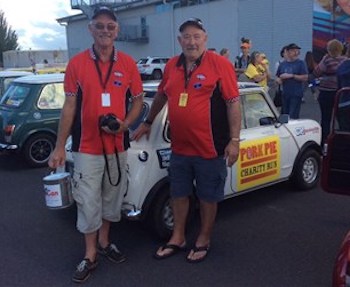 Cooper Troopers
Bruce & Meling Eagar.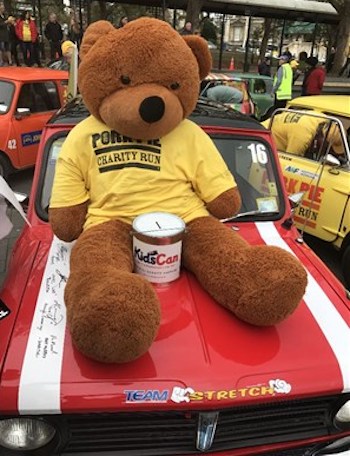 Team Stretch

Phil, Debe & "Ted" Kane.